At
BBB

, Renting a Car in Los Cabos is Simple:

  Choose Your Car

 Choose Your Insurance

 Receive a Guaranteed Quote
That's it!
When you rent with BBB, you only pay for two things — the rental vehicle and the insurance you choose. All charges and taxes are included in every quote.
BBB QUOTES ARE YOUR "OUT THE DOOR TOTAL COST"
Need Help? Give us a call at a number above or click here to contact us.
Our Inventory
Our fleet of used cars, vans, trucks, and SUVs are clean, fully reconditioned, well maintained, and safety inspected to keep our customers happy, safe, and mobile.  We care about our customers and offer the best value available — allowing you to better enjoy the Los Cabos paradise experience.  VIEW OUR FLEET
We are proud of our customer reviews!
Visit Yelp,  Google+, or TripAdvisor and see what hundred's of our clients say about their experiences with BBB Rent a Car.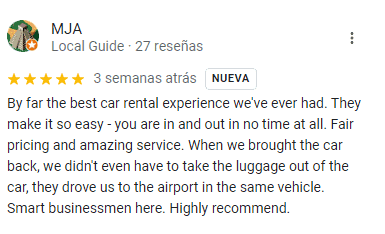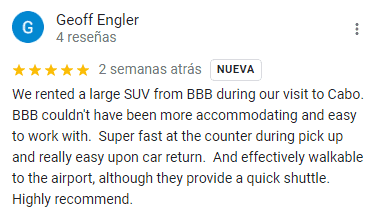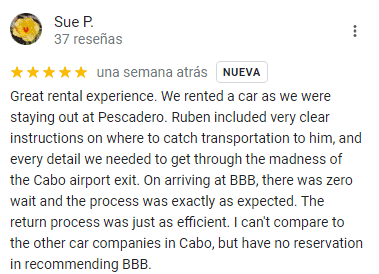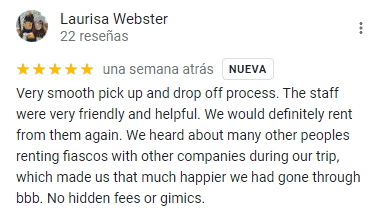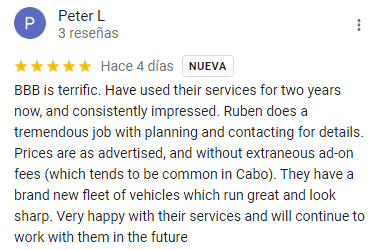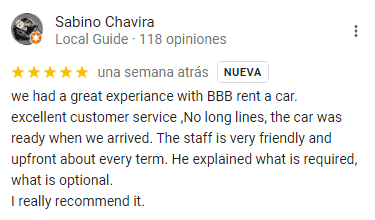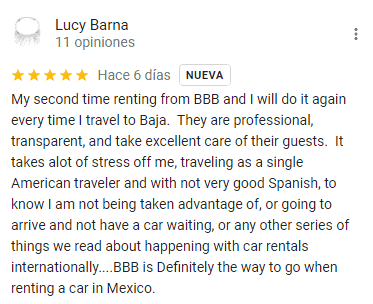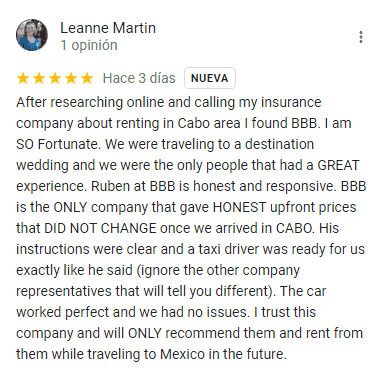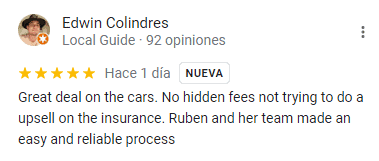 Save $'s & Have Great Selection when You Rent from

BBB Rent a Car*
Our Rental Cars, Vans, and SUVs have seating for 5 to 15 people, plus your luggage and toys.

*Up to 50% Savings in comparison to local Rent-A-Car franchise's posted website rates for 7-day rentals on like vehicles. Most competitors do not rent full-sized SUVs, 4×4 Crew Cabs, or Super-Sized 1-Ton Passenger Vans!
Picking up and dropping off your rental and could not be easier. We provide transportation to and from San Jose Del Cabo International Airport. No worries as our office is 5 minutes away, max.
Car rental rates often do not include insurance, which can easily double or triple the cost of renting a car.  We make Mexican car rental insurance simple while ensuring our customers are safe.
Our policy is clear — we want you to know what your costs will be and have simplified our procedure to reflect this.
BBB

quotes are not estimates. Our quotes are guaranteed.
Renting a Car in Baja?
We're here to help!
Give us a Call or Get a Quote and we'll set you up with the perfect rental, at the right price.